| | | | | |
| --- | --- | --- | --- | --- |
| | | | | |

www.digital-engineering.co.th
PN- 6750 Access Controller Digital Engineering Center Co.,Ltd.
Intelligent 3 in 1 design for Proximity Card reader / Access Controller / Time & Attendance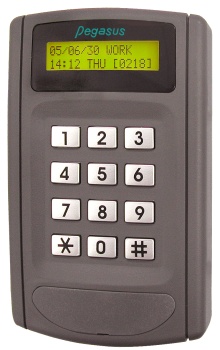 PN-6750 Access Control / Time Attendance
Pegasus PN-6750 Proximity access controller เครื่องทาบบัตร PN-6750
เครื่องควบคุมการเข้าออกประตูโดยการทาบบัตร

ตัวเครื่องมีจอ LCD 2 แถวฯละ 16 บรรทัด แสดงวันเดือนปี

สามารถบันทึกการเข้าออกได้ 6,000 รายการ
สามารถรองรับบัตรได้ถึง 8,000 ใบ

ใช้ Time Zone กำหนดการผ่านของบัตรแต่ละใบ

มีระบบเชื่อมต่อสวิทช์เปิดปิดภายใน และมีระบบหน่วงเวลากันโขมย
ระยะการอ่านการ์ด 10-15 ซม.
สามารถปฏิบัตการในระบบ Stand Alone ในกรณีที่ระบบ Network บกพร่อง
เลือกระบบการเข้าออกประตูได้ 1.ใช้บัตรทาบ 2 ใช้บัตรทาบพร้อมกดรหัส 3.กดรหัส
เพิ่มหรือยกเลิกบัตรที่จะผ่านได้โดยง่าย เพียงใช้ Pass Word

สามารถต่อเป็นระบบเครือข่ายได้สูงสุด 64 เครื่อง

สามารต่อคอมทาง RS-232 เพื่อดูข้อมูลูรายงานการเข้าออกผ่านระบบคอมพิวเตอร์ได้

ตัวเครื่องแข็งแรง ทนทาน สวยงาม ภูมิฐาน มีระดับ FULL OPTIONS
Features:
Proximity Reader / Access Controller / Time & Attendance 3 in 1 design, supports stand-alone or intelligent PC on/off-line operation.
Built-in reader and provides a standard Wiegand input for external reader with anti-pass back function, also comes with 24/36/48 hours anti-pass back reset function.
Support contactless thick, thin card (credit card size and easy for color printing) and keyfob.
With 256KB nonvolatile 8,000 cards
Operation modes: 1. card only 2. card and PIN 3. keying only (by card number and PIN) 4. auto operation mode by time zones 5. personalized operation mode (optional) 6. auto free access.
Card can be added/deleted/inquired in single/ block of range or by read & learning by manual operation or via PC.
2 lines x 16 LCD for displaying system parameters and personal maps when setup or inquiry, such as: date, time, duty code, duty name, transactions, buffer counter, card number, ID number, and user name. And support printout for all events logging by connecting the serial output to PG-1050B printer adaptor.
System parameters and personal maps editing with keypad by master card or thru 6 digits master PIN, also can be uploaded / downloaded via on-line PC.
Multiple networking system can be configured to control up to 160 doors with supports of PCP832-XX multi-channel controller. Thousands access controllers system can be easily configured thru PC-T100 (TCP/IP converter) for Web networking.
With 2-6 transparent user selectable duty keys and another two digits 79 user definable duty codes with duty description names. Duty code can be automatic shifted by 8 scheduled time zones.
168 time alarm for bell schedules and 96 holiday schedules.
Keypad lockable by master PIN and selectable Anti-duress code function to enhance security.
Check repeat reading function to prevent repeating reading within 1-9 minutes.
Support error message logging, such as: PIN error, card number error, invalid card, time zone mismatch, door monitoring time too long.
Warning message "Ful 99%" prompt on LCD display for collecting data.
Auto power reset with watchdog timer and low power RTC design, data retention for 10 years while power failure.
Optional function: Alarm control enable/disable, guard patrol function, card valid time restriction, digital door driver (DDR).
Specifications:
Model No.

PN-6750

Frequency / Modulation

125KHz / ASK

Memory

256KByte NVRAM (expandable up to 4MB)

On-line Interface

RS-232C or RS-422 or RS-485. Web-based networking, 10/100Mbps auto-sensing (TCP/IP converter PC-T100)

Baud rate

300-115,200 bps, N,8,1 (default 4,800 bps)

Time zone

Time & Attendance

8  personal time zones, 8 time zones for auto duty mode

Access Control

8 personal time zones, 8 time zones for auto operation mode

Inputs

3 inputs for external reader, push button, door monitoring, burglar zone monitoring

Outputs

5 outputs for door release, alarm, printer output, tamper switch, and door bell

Display

LCD module with 16 characters x 2 lines

Mounting

Surface mount with waterproof

Enclosure material / color

ABS / dark grey

Keypad

4 x 3 numeric keypad, waterproof

Indicators

Bicolor (red/green) and amber LEDs, multi-tone buzzer

Power supply

12V DC, 150 mA?(Linear power supply recommended)

Operation temperature

0?C ~ 55?C

Humidity

10%~90% RH, Non condensation

Dimensions

137(L) x 85(W) x 25(H) mm

Weight

340g ? 5%
PN-6750 Intelligent 3 in 1 design for Proximity Card reader / Access Controller / Time & Attendance
| | | |
| --- | --- | --- |
| 1 | PN-6750 Prox Access/Attendance Controller | 1 |
| 2 | ชุด Power Supply พร้อมแบตเตอรี่สำรองไฟ | 1 |
| 3 | Electromagnetic lock 600 ปอนด์ | 1 |
| 4 | L&Z Fixcd Bracket for PML 600 ปอนด์ | 1 |
| 5 | Proximility Passive key Card (บัตรทาบ) | 100 |
| 8 | ค่าติดตั้ง | |
Proximity Reader Send out data read from proximity card without keypad for Wiegand output
เครื่องทาบบัตรด้านในแทนกดสวิทช์ออก
| | |
| --- | --- |
| | |
| PUA-310 | PP-110 |
จำหน่ายบัตร Proximity ราคาพิเศษ
| | |
| --- | --- |
| | |
| Key Card | Key Tag |
------------------------------------------------------------------------------------------------------------------
สอบถามรายละเอียดเพิ่มเติมได้ที่.......
TEL 02-7545199 (Auto) 02-7545133 FAX 02-7542964
Hot Line 081-4552234 089-5368911 082-2169559 081-9390211
Digital Engineering Center Co.,Ltd. www.digital-engineering.co.th